Free Content
Big Decisions With Small Regulators
Mihaela Zavolan's career path has been somewhat unusual: In 1992 she graduated with an MD degree from the University of Medicine and Pharmacy of Timisoara, Romania, then moved to the USA to work on computational biology. Here she completed a PhD in Computer Science at the University of New Mexico, Albuquerque, in 1999.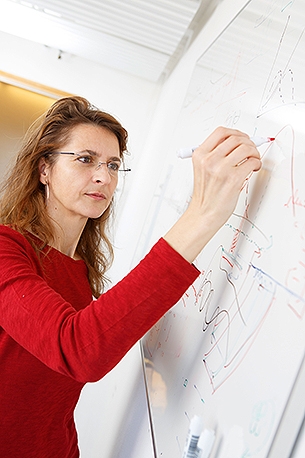 After postdoc studies at the Laboratory of Computational Genomics at the Rockefeller University, she was appointed assistant professor in computational and systems biology in 2003 at the Biozentrum, University of Basel. In 2008, she was made an associate professor and currently leads a team of 10–15 researchers.
Her team studies the way in which very small regulatory RNAs, so-called microRNAs, work. Examining their function under normal conditions will help to understand the consequences of their aberrant expression as found in various diseases. "I find it fascinating that such small molecules can trigger dramatic changes in cell identity, and I'd like to uncover the path by which microRNAs induce cell reprogramming," explains Zavolan. She has been awarded an ERC Starting Grant of almost 900,000 euro from the European Research Council to undertake this project.
The Biozentrum offers Zavolan the best possible conditions for her work. Computational and molecular biologists in her group combine experimental results with data analyses and computational modeling. Her latest project is "Dealing with uncertainty: controlling and exploiting stochasticity in gene regulatory networks" and has received 2.5 million euro in funding from the SystemsX.ch initiative.