Articel Content
"The law should take reality as its starting point"
Interview by Christoph Dieffenbacher
In recent months, ideas on ways to reform Swiss Family Law have provoked heated debates, and Basel-based law professor Ingeborg Schwenzer also has something to say on the topic. Our question to her: How should the state regulate partnership and family for the future?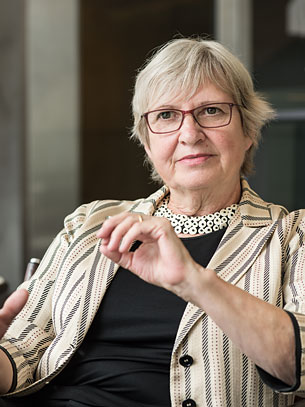 Changes to the Family Law are subject to intensive discussion in Switzerland at the moment – so why now?
We have reached the point where we have to decide how to create a modern family law that takes into account the ways that society is changing. In this process, we need to consider how people live nowadays. I have compiled a report on the subject that has three main points: First, the state should not intervene in relationships between adults if they are capable of making their own decisions; second, the law must hold people responsible for the actual life they lived; third, it must secure the best interests of the child – in fact, this must take priority over everything.
"From status to the real relationship" is the title of your post- doctoral 'Habilitation' that you completed in 1987 in the field of Family Law ...
Due to historical developments and based on my own convictions, I came to the conclusion that marriage cannot be the single basis for Family Law. Non-marital cohabitation, which was still illegal in some cantons up until the 1990s, has increased significantly. The same is true for children born to non-married couples – this number is set to increase even further as a result of the new custody law.
You claim that marriage should represent one of a number of possible partnership choices. Why?
Marriage used to function as an insurance policy for the woman: If she was divorced against her will and due to no fault of her own, she could claim marital support for the rest of her life. Nowadays, most couples in Switzerland are unmarried. A law that takes into account the diverse forms of cohabitation would also serve to protect children; statistics have shown that patchwork families are more likely to break up than traditional families. Another question is at which point a cohabiting partnership is subject to legal juris- diction, and which support services come into play following a breakup. The danger currently is that if a non-married couple separates after twenty years, and one of them owns the house they're living in, they can simply lock out their partner without legal consequences.
Traditional marriage coming under scrutiny provokes an emotional response in many people, as does your call to address topics such as the ban on incest and polygamy in your report ...
Marriage should be preserved: It is an important institution, and it allows couples to declare their partnership to society. Those who claim that the family will be destroyed under the new law have misunderstood it. The ban on incest should be more closely examined, for example in the case of adoptive siblings who are not related by blood. The ban on polygamy might also be negotiated in the long run.
How do your suggestions compare with similar laws in other countries?
A number of the individual points are already in practice abroad, for example the ruling of financial responsibility for non-married couples, or the awarding of parental rights to those who are not the legal parents. I have created a new concept that I believe is coherent.
Professor Ingeborg Schwenzer (*1951) has been a tenured professor in Private Law at the University of Basel since 1989. After having graduated in Law from Freiburg im Breisgau, Geneva, and the University of California, Berkeley, she completed her doctorate in 1978 and went on to write her postdoctoral work in the field of family law. She finished the project in 1987, when she was offered a professorship in law at the University of Mainz. Her primary research interests are the Swiss Code of Obligations, trade law, and family law. She has also been active as an adjunct professor in Brisbane (Australia) and in Hong Kong (China).