Free Content
Course rooms, address and more useful information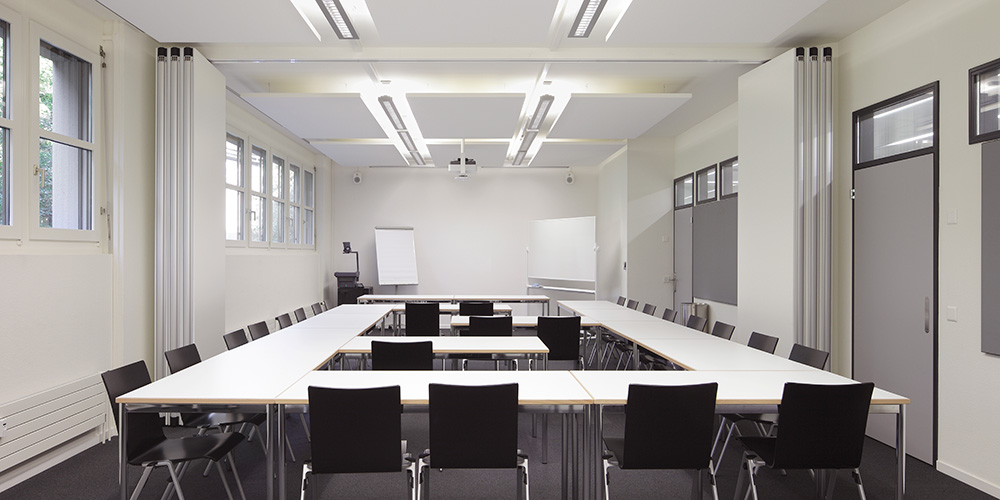 Course rooms for Advanced Studies
Various seminar rooms are available at Steinengraben 22 for Advanced Studies programs and organizational units of the University of Basel.

Information on the seminar rooms can be found on the university's internal webpage Räume für Lehre.
In addition to the size and space available, this page also provides information on equipment and infrastructure. A presentation kit with standard materials is available in each classroom. You should bring any other materials you need with you.
Reservations at: info@advancedstudies.ch
Seating is in a standard arrangement. Please feel free to adapt this to your needs, but the seating must be returned to its original configuration at the end of the event.
Keys/badges for the seminar rooms can be obtained from the Secretariat of Advanced Studies, 3rd floor, Office 306 (opening hours: Mon-Fri 9 am to 12 pm and 2 pm to 4 pm), including on the day before the event if necessary. Keys are to be returned at the end of the last day of the event.
Please note that Advanced Studies is not able to organize catering. A coffee machine is available (insert CHF 1). Please organize catering externally and ensure that the caterer collects any dishes, leftover food, etc, no later than 5 pm on the same day, as the room may be needed the following morning.
Before leaving the room in the evening, please check that all windows are closed (in particular those on the street side, including restrooms). There is no nightly cleaning service or inspection.
If you encounter any problems at short notice, please do not hesitate to contact the Advanced Studies team on the 3rd floor. However, we are unable to give any further support.
How to find us
From Basel SBB railway station
Take the no. 30 bus (from the stop at Confiserie Bachmann) in the direction of Badischer Bahnhof to the Steinenschanze stop (two minutes).
From Badischer Bahnhof (DB)
Take the no. 30 bus in the direction of Bahnhof SBB to the Steinenschanze stop (20 minutes).
Information for program managers
On Adam (Advanced Distribution And More) of the IT Services of the University of Basel, Advanced Studies provide useful information in German for program managers about continuing education at the University of Basel.
Links and Downloads